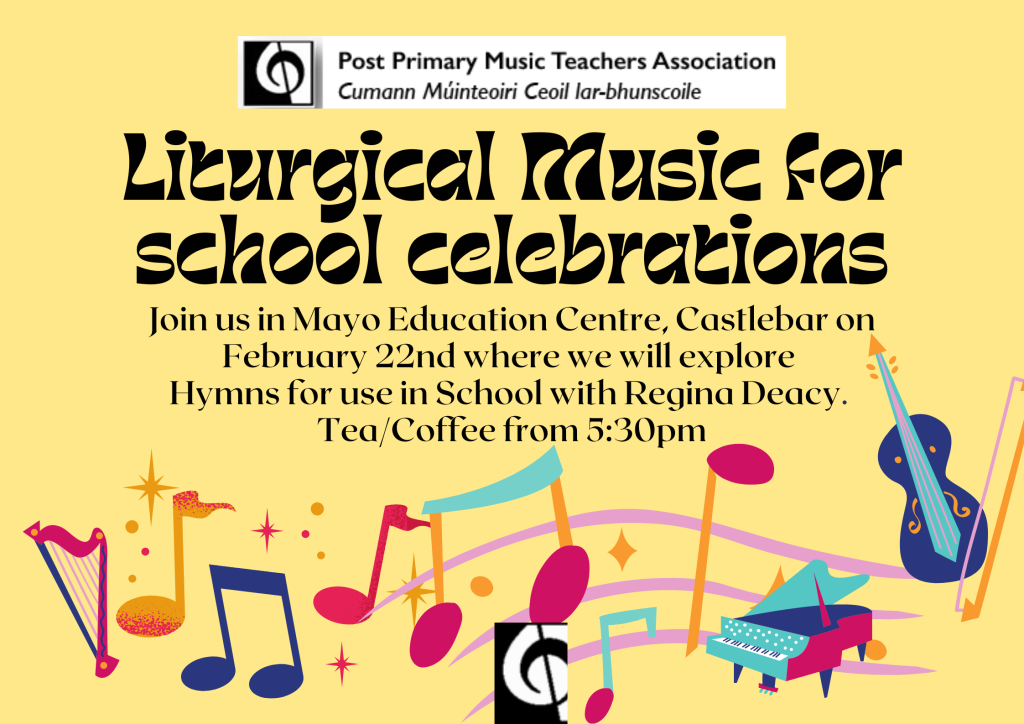 Hello Music Educators,
There will be a meeting of the Mayo/Galway branch of the PPMTA on Wednesday evening February 22nd from 5:30pm  in Mayo Education Centre, Castlebar The meeting is a two-hour long workshop given by Regina Deacy on the topic 'Liturgical Music for school celebrations'. Regina is Music Teacher in St Mary's Ballina and also organist and director of sacred music in St Muredach's Cathedral and in Killala Diocese. She has conducted several workshops on sacred music in the diocese and at the annual Irish Church Music Summer school in Maynooth. Regina will guide us through suitable and modern liturgical music choices for school liturgies, Masses or other school celebrations that require liturgical music.
Tea/Coffee will be served from 5:30pm; we'd love to see you then for informal chats beforehand as it's been a while since we met in person! Workshop will begin at 6pm.
Places are limited to 30so if you are interested can you please email me at my own email address mshiney@geralds.ie asap to reserve your spot!

Please note: There will be elections for branch representative for both Galway and Mayo in our May meeting. Expressions of interest in the role of branch representative should be sent to dmorgan.ppmta@gmail.com
Looking forward to seeing you at the workshop,
Kindest regards,Jennifer Hiney (Mayo) and Connie Burke (Galway)