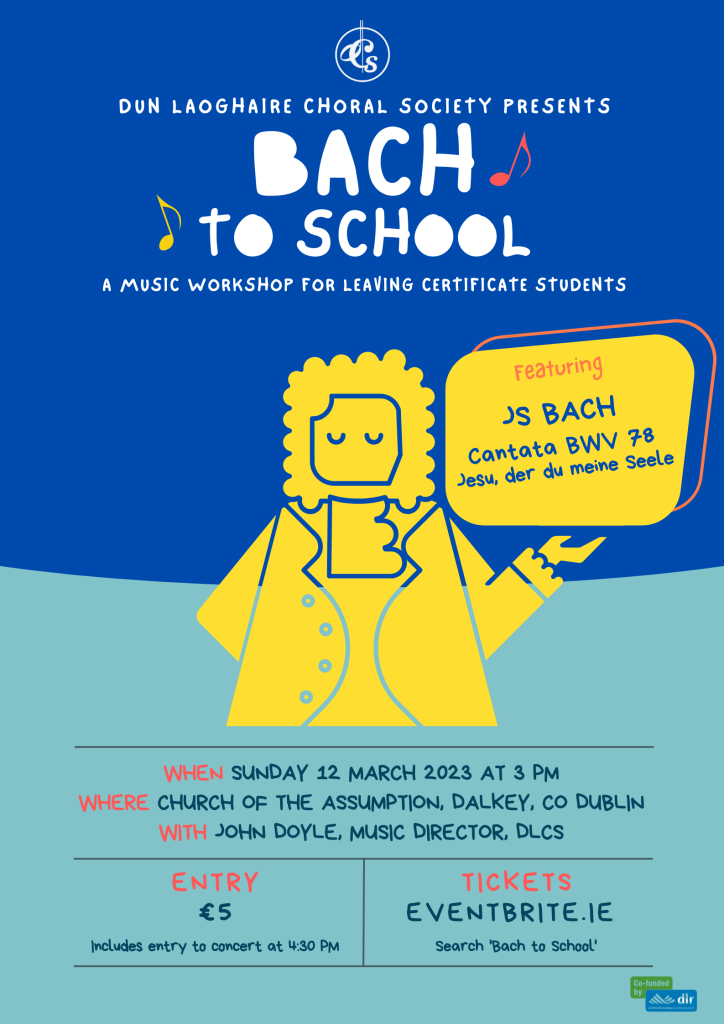 Dun Laoghaire Choral Society is delighted to present Bach to School, a workshop for Leaving Certificate students on J.S. Bach's cantata, Jesu, der du meine Seele (BWV 78). A detailed outline of topics covered can be found in the attached Google document: 'Bach to School workshop: full details'.
Date: Sunday 12 March 2023
Time: 3 PM (15:00) (duration approx. 50 minutes)
Venue: Church of the Assumption, Dalkey, Co. Dublin
Tickets: €5 @ Eventbrite.ie: https://tinyurl.com/bachtoschoolDLCS
Presenter: John Doyle
Bach to School will be presented by John Doyle, Music Director of Dun Laoghaire Choral Society and Senior Cycle Music Teacher.
John will be accompanied by a full professional ensemble and soloists and by Dun Laoghaire Choral Society.
John is a gifted teacher, conductor and musician and the afternoon promises to be highly informative and entertaining.
The €5 workshop fee for students includes entry to our Bach and Beyond concert at 4:30 PM, when Dun Laoghaire Choral Society will perform works by J.S. Bach, G.P. Telemann and A. Vivaldi, including a full performance of Cantata BWV 78.
Teachers accompanying students to the workshop are cordially invited to attend the workshop and concert for free.