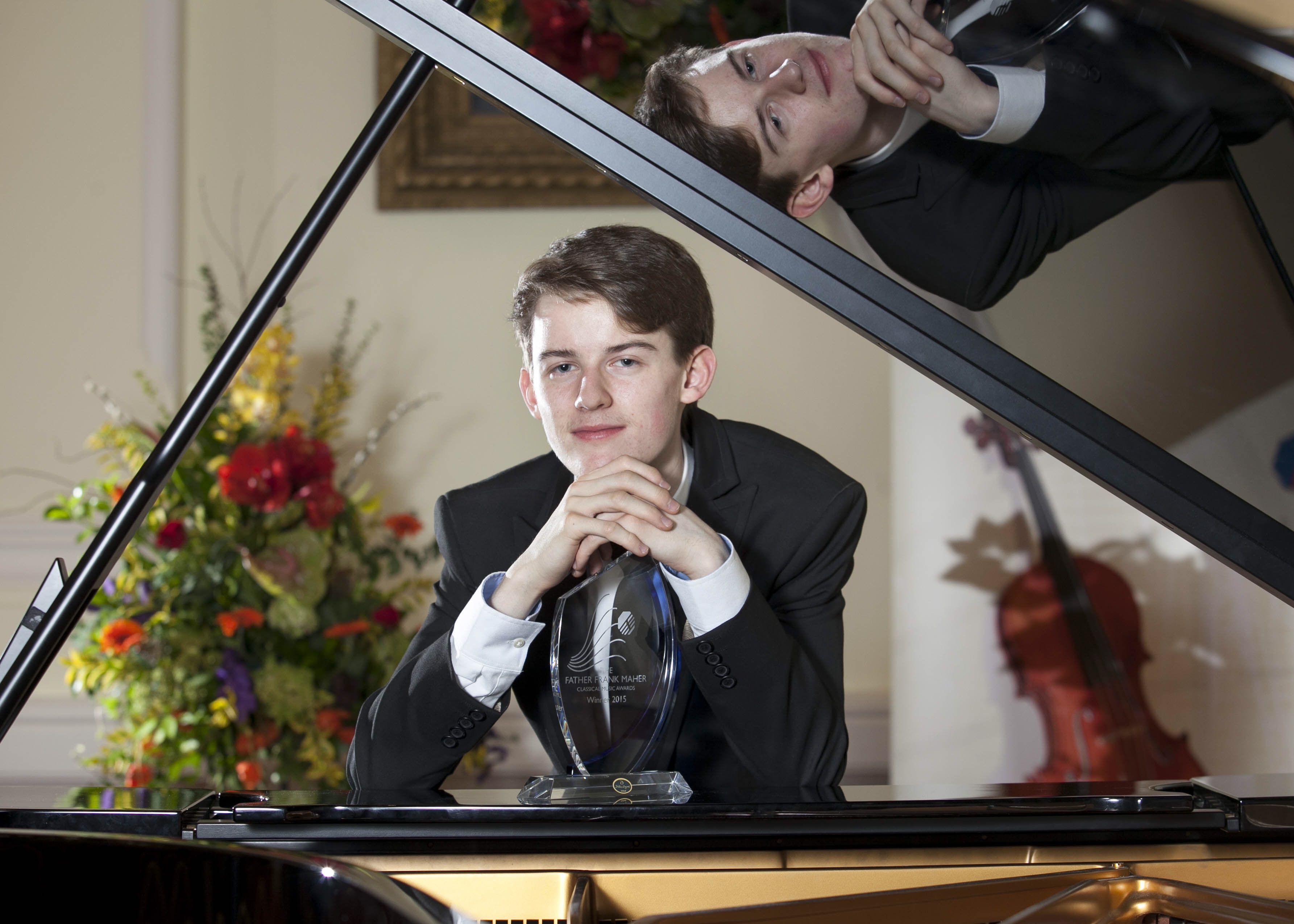 Eoin Fleming (17) a sixth year student at St MacDara's Community College, Templeogue, is the winner of the 2015 Fr Frank Maher Classical Music Awards sponsored by Top Security, Ireland's largest classical music competition for secondary schools. Seven finalists from Dublin, Kerry, Louth and Meath competed at the Royal College of Physicians in Dublin to win the top prize of €3,000 to further their fledgling musical career.
Eoin,who plays the piano, performed two pieces, Nocturne Op.27 No.2 by composer Frederic Chopin and Piano Sonate No.2 Op.36 by composer Sergei Rachmaninoff.
A delighted Eoin said "My dream is to attend the Shenandoah University of Virginia in the USA to study under Dr John O'Conor, who is professor of piano there. I hope to audition shortly and if I'm successful, then I will use my prize money to go towards my fees and costs."
Eoin, who has been playing piano for eight years, comes from a musical background, his father Sean Fleming is principal bass trombone with the RTE National Symphony Orchestra, his mother Anne plays and teaches violin and his brothers Marcus and Stephen are also involved in music. In June 2015, Eoin was one of only 23 students in the world selected to compete at the inaugural Van Cliburn Junior International Piano competition at Fort Worth, Texas.
The Awards were created in 2001 by Top Security chairman Emmet O'Rafferty to honour the memory of the late priest, who was a music teacher at his old school, Castleknock College. Their aim is to showcase outstanding young musical talent in Ireland and are open to sixth year post-primary students of strings, woodwind, brass and piano. The €3,000 top prize must be used to attend a recognised place of tuition, a course of study in Ireland or abroad or on a purchase necessary for the development of their talent.
.
Emmet O'Rafferty, chairman of Top Security, said "Eoin joins a line of incredible young talent who have used the prize to attend some of the world's most prominent music colleges, which include Conservatoire Nationale Superieur de Musique et de Danse Paris, Kronberg Academy in Germany, the Meadows School of the Arts in Dallas, Texas, and the Royal Academy of Music in London to name a few. I know that Fr Frank Maher would have been proud of the performances at this wonderful venue and I wish Eoin the very best in his chosen career."
The six finalists each received a €250 bursary. They were:
Cellist Alexander Brychta, (18) Cross and Passion College, Kilcullen, Kildare
Flautist Clodagh Curran (17) High School, Rathgar, Dublin
Horn, Caoiṁe Glavin (18) Presentation Secondary, Tralee, Kerry
Violinist Aleksandra Malinowska (18) Scoil Mhuire, Trim, Meath
Cellist Patrick Moriarty, (18) Rockbrook Park, Edmondstown, Rathfarnham, Dublin
Pianist Juliette Morrison (18) St. Vincents Secondary School, Dundalk,Louth
The judging panel were Dr Gerard Gillen, emeritus professor of music at NUI Maynooth, Dr Kerry Houston, head of academic studies at DIT Conservatory of Music and Drama and renowned concert pianist Veronica McSwiney.