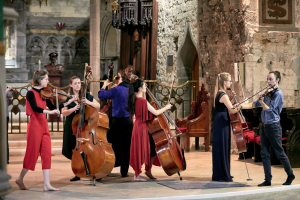 Irish Chamber Orchestra Academy Free lunchtime concert
The Irish Chamber Orchestra Academy, directed by Diane Daly brings together members of the Irish Chamber Orchestra and a group of exceptionally talented students from conservatoires across the world.
The programme features the beautiful Serenade for Strings by Elgar and the exhilarating Bachianas Brasileiras No. 9 by Villa-Lobos.As a rare treat there will be a very special performance of 'Summer' from Vivaldi's Four Seasons, in an innovative version integrating movement and theatre.
This project is funded by the Irish World Academy of Music and Dance, University of Limerick, and made possible by the support of the Dublin Institute of Technology, the Royal Irish Academy of Music and the Irish Chamber Orchestra.
Thursday 21stMarch 1pm Gleeson Hall, Dublin Institute of Technology, Dublin.