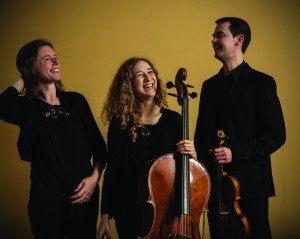 Fidelio Trio: Secondary School Listening
Workshops at St Patrick's College Drumcondra
On Thursday, February 26th 2015, the Music Department at St.
Patrick's College, Drumcondra will host two listening workshops aimed
at second-level students and their teachers, led by our ensemble-in-residence,
the internationally acclaimed Fidelio Trio, taking place at 10am and 11am.
These interactive 1-hour workshops will be ideal for students in
Transition Year right up to 6th year, whether they or studying music or are simply interested in learning about classical music through direct engagement with some of the most talented performers to come out of Ireland. We expect to accommodate up to
60 people per session. The workshops will consist of performances
and discussion of the Trio's repertoire, with a Q&A session included. The event will be free of charge for all attendees.
The …virtuosic Fidelio Trio (Sunday Times) is comprised of Darragh
Morgan (violin), Adi Tal (Cello) and Mary Dullea (Piano). Their repertoire is
hugely diverse, ranging from 18th-century classical works right up to their frequent commissions of new music by living composers. They have performed at venues and festivals worldwide including London's South Bank, Wigmore Hall, Kings Place, Cheltenham Music
Festival, Huddersfield Festival of Contemporary Music, West Cork
Music, Shanghai Oriental Arts Centre, Princeton University.
There are a limited number of spaces left for the sessions; if you are interested in having your students take part in this unique opportunity to engage directly with classical
musicians of the highest standard, please RSVP as soon as is convenient to musicresidency.events@spd.dcu.ie with the number of attendees and preferred time slot.
We look forward to hearing from you!
Music Department
St Patrick's College Drumcondra
www.fideliotrio.com