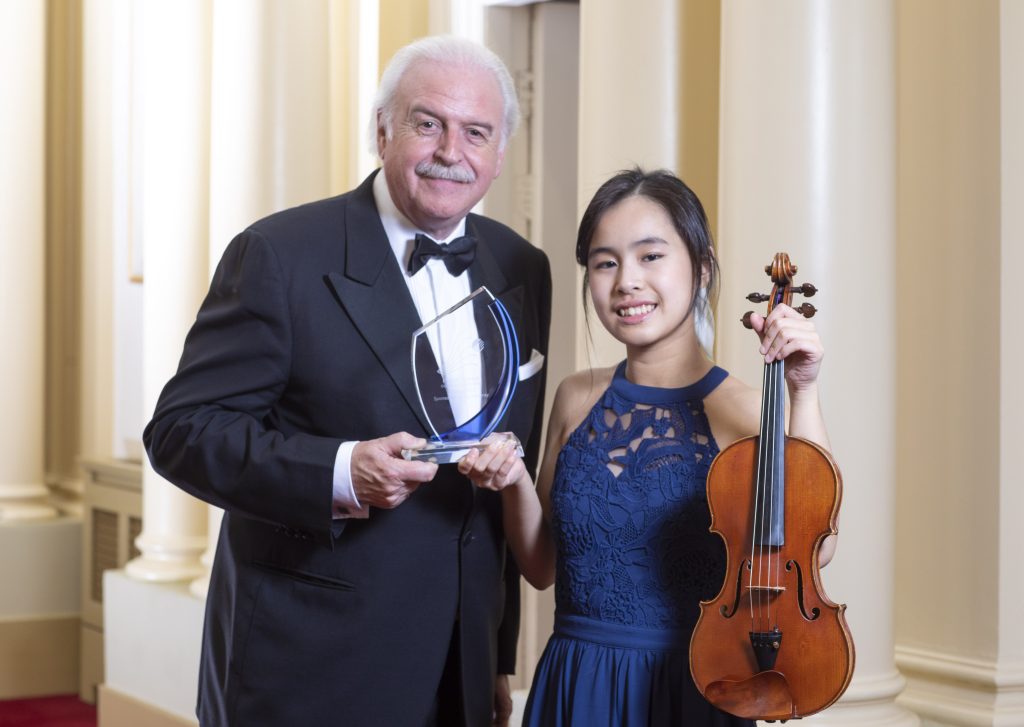 Violinist Daimee Ng (17) a sixth-year student at High School, Rathgar, Dublin, has won the €5,000 top prize at the 2022 Top Security Frank Maher Classical Music Awards, Ireland's largest such competition for secondary schools.
Daimee was one of six finalists at the competition night on Friday 28th October 2022 in the Royal College of Physicians in Dublin. Lyric FM presenter Marty Whelan was MC for an evening of outstanding teen musical talent, at which Daimeeperformed two pieces – 'Gavotte en Rondeau from Violin Partita Lo.3 in E Major, BWV 106' by composer Johann Sebastian Bach and 'Valse-Scherzo in C Major, Op.34' by Pyotr Tchaikovsky.
The Awards were created in 2001 by Top Security chairman Emmet O'Rafferty to honour the memory of his late teacher, Fr Frank Maher, who taught music at Castleknock College in Dublin. Emmet said "Congratulations to Daimee Ng on joining our pantheon of extremely talented winners. Father Frank Maher was an inspiring mentor in many areas of school life, but he was especially passionate about classical music. We were particularly delighted to have his niece Ruth Maher as our special guest on the night and I want to wish our winner Daimee and our other five finalists the very best of luck for the future. "
Commenting on her win, Daimeesaid "It was a fantastic night, I am very grateful and honoured to have won and I plan to use my prize money to attend masterclasses and auditions in Ireland and abroad."
The Awards' aim is to showcase outstanding young musical talent in Irish schools and are open to sixth year post-primary students of strings, woodwind, brass and piano. The €5,000 top prize must be used to attend a recognised place of tuition, a course of study in Ireland or abroad or on a purchase necessary for the development of their talent.
Past winners have gone on to attend some of the world's most prominent music colleges, including the Juilliard Performing Arts Conservatory in New York City, Conservatoire Nationale Superieur de Musique et de Danse Paris, Barenboim-Said Akademie in Berlin, the Royal Academy of Music in London and Music and Arts University (MUK) in Vienna. The 2021 winner Stan O'Beirne won a UCD Ad Astra Performing Arts Scholarship, allowing him to develop his artistic talent while at the same time pursuing an academic degree.
The other five finalists each received a €300 bursary. They were Lucy Lele Byrne (18) Institute of Education, Dublin (Piano); Alexander Krylov (17), Luttrellstown Community College, Dublin (Classical Guitar); Grace Mulcahy-O'Sullivan (17), Mount Mercy College, Cork (Flute); Elena O'Connor (18), Muckross Park College, Dublin (Cello) and Dawid Walega (16), Boyne Community College, Meath (Piano).
The judging panel was Dr Gerard Gillen, emeritus professor of music at NUI Maynooth, Dr Kerry Houston, head of academic studies at TU Dublin Conservatory of Music and Drama and international classical pianist, Veronica McSwiney.
Dr Gerard Gillen, chair of the judging panel, said "Congratulations to this year's winner Daimee Ng on her excellent performance, in which she showcased her musical accomplishments alongside her ability to convey the joy and emotion of the music to the audience. "