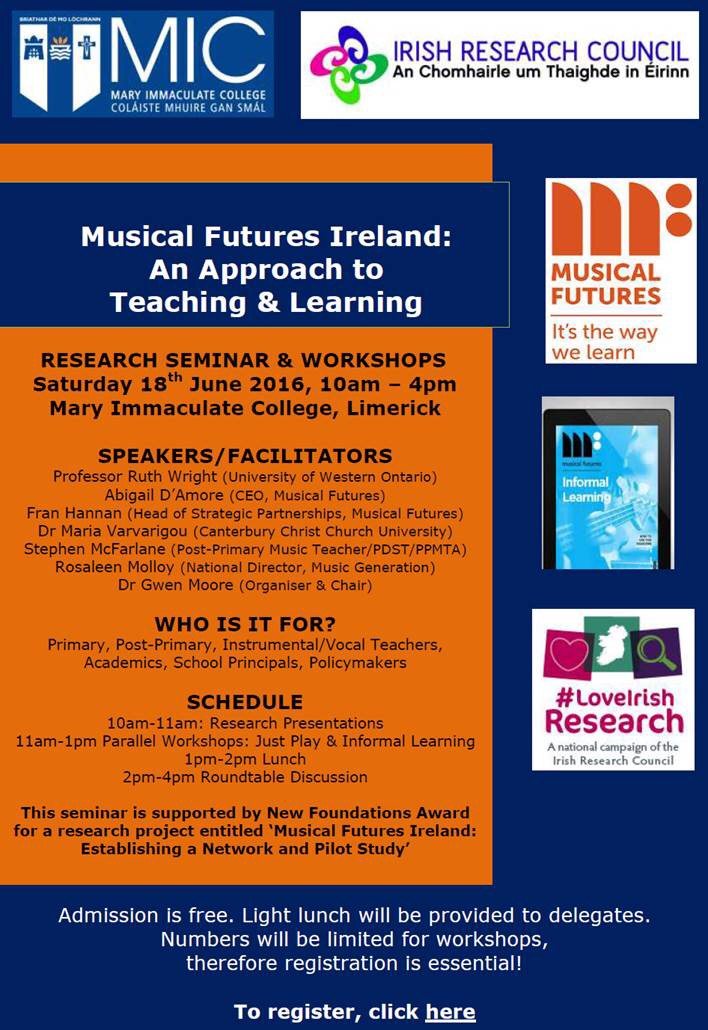 Dear Colleagues and Friends,
You are cordially invited to a seminar entitled 'Musical Futures Ireland: An Approach to Teaching & Learning' on Saturday 18th June 2016 from 10am – 4pm at Mary Immaculate College, Limerick.
This seminar will feature scholarly debate on Musical Futures as an approach to teaching and learning as well as practical workshops. It will be of particular interest to academics teaching and researching in the field of music education in Ireland, in addition to policymakers and those involved in curriculum reform. It will also be of interest to primary, post-primary or instrumental music teachers who wish to enhance their approach to music teaching and learning and may wish to pilot the approach in practice.
Funded by the Irish Research Council New Foundations Scheme, the aim of this seminar is to establish a network of academics, teachers (primary, post-primary, instrumental teachers), principals and policymakers in order to:
initiate a scholarly debate on non-formal teaching and informal learning in music education within the Irish context
engage in practical workshops using the Musical Futures approach (for more information see www.musicalfutures.org)
discuss the ways in which the Musical Futures approach might be incorporated/adapted in schools
pilot the Musical Futures approach in a small number of primary and post-primary schools in Ireland
The event is free of charge, however numbers for the workshops are limited and will sell out fast! Please feel free to share with other teachers/principals/researchers who may also be interested.
To register, please click here. (https://www.eventbrite.ie/publish?crumb=70fdbfe6cd46b8&eid=25574058698)
For further information, please get in touch using the contact details below.
Kind regards,
Gwen
______________________________
Dr Gwen Moore
Lecturer & Coordinator, MA Music Education
Department of Arts Education & Physical Education
Mary Immaculate College, University of Limerick
South Circular Road
Limerick
Phone: 061 204945
Email: gwen.moore@mic.ul.ie
Webpage: GMoore AEPE
YouTube: G Moore MIC Ed Talks
Chair, Society for Music Education in Ireland
www.smei.ie