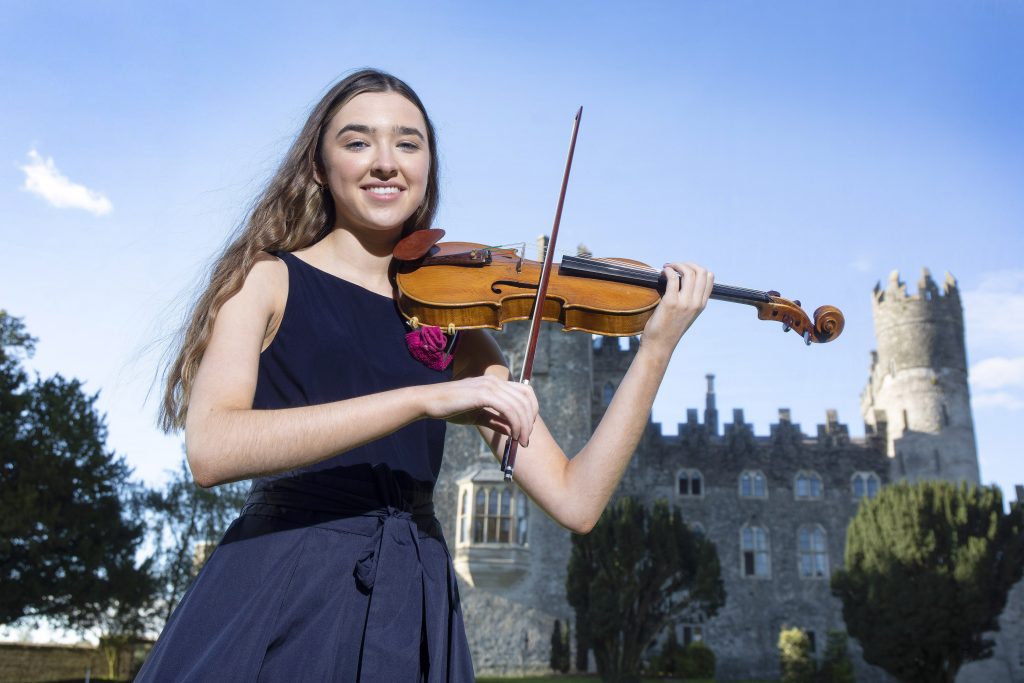 Julieanne Forrest wins 2020 Frank Maher Classical Music Awards.
Violinist Julieanne Forrest (17) a sixth-year student at St. Peter's College, Dunboyne, Co. Meath is the winner of the €5,000 top prize at the Top Security Frank Maher Classical Music Awards for 2020, Ireland's largest such competition for secondary schools, which took place on Friday 2nd October 2020.
Julieanne performed two pieces; 'The Sonata in A Major (3rd Movement)' by composer Cesar Franck and 'It Ain't Necessarily So' by George Gershwin, arranged by Jascha Heifetz.
The Awards were created in 2001 by Top Security chairman Emmet O'Rafferty to honour the memory of his late teacher, Fr Frank Maher, who taught music at Castleknock College in Dublin. Emmet said "Congratulations to Julieanne on her standout achievement in what was a showcase of outstanding teenage classical music talent. It's a privilege to have been able to give those young musicians the support and recognition they deserve, which has never been more needed than now. "
For our previous winners, the Award has helped open the door to an international career, and we wish Julieanne the very best of luck in this regard," Emmet continued.
Six finalists competed for the top prize of €5,000 to develop their musical career. Because of Covid-19, there was no audience this year and instead the young musicians performed individually in front of the judges only, in socially distanced surroundings. The performances were filmed and will be available post-event for family and friends to view.
Commenting on her win, a delighted Julieanne, who studies with Fionnuala Hunt at the RIAM, said, "I was so thrilled to be able to perform live again, my first time since February. I am very grateful to Top Security for the opportunity and I am going to put my prize money towards a new violin. All going well, I will have auditions for college in Austria and the USA next year."
The Awards' aim is to showcase outstanding young musical talent in Irish schools and are open to sixth year post-primary students of strings, woodwind, brass and piano. The €5,000 top prize must be used to attend a recognised place of tuition, a course of study in Ireland or abroad or on a purchase necessary for the development of their talent.
Past winners have gone on to attend some of the world's most prominent music colleges, which includes the Juilliard School, Shenandoah University of Virginia, Conservatoire Nationale Superieur de Musique et de Danse Paris, Kronberg Academy in Germany, the Meadows School of the Arts in Dallas, Texas, and the Royal Academy of Music in London, to name a few.
The five finalists each received a €300 bursary. They were
Lukas Bespalovas (17), Breifne College, Cavan (Piano)
David Blake (17), Gonzaga College, Dublin (Cello)
Iedida Condria (17), Sandford Park School, Dublin (Piano)
Kevin O'Loughlin (17), Sandford Park School, Dublin (Viola)
Helen Rutledge (18), St. Angela's College, Cork (Violin)
The judging panel this year was Dr Gerard Gillen, emeritus professor of music at NUI Maynooth, Dr Kerry Houston, head of academic studies at DIT Conservatory of Music and Drama and classical pianist Veronica McSwiney